Aircraft
Junkers Ju 87G Stuka
Pilot & Markings
Luftwaffe Nachtschlachtgruppen
Model Builder: Jeff Smith
Scale & Kit
1/48 Scale Monogram Model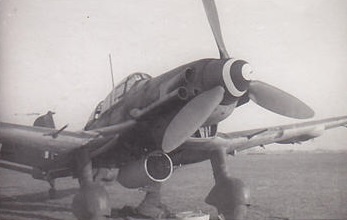 History
The Junkers Ju 87 Sturzkampfflugzueg (Stuka) dive-bomber was one of the most terrifying planes of WW2, especially for the British civilian population who were the targets of its dive bombing during the Battle of Britain. Most Stukas had two underwing mounted "Trumpets of Jericho" sirens that screamed as it dove and its inverted gull wings gave is an evil, vulture-like appearance. Of the approximately 6,500 Skukas built, only two survive in the world today (RAF Museum, London and Museum of Science and Industry, Chicago).
Introduced in 1936, the Stuka became a very effective dive-bomber and ground attack aircraft which became synonymous with the German era of Blitzkrieg tactics. In early campaigns like the Spanish Civil War that had minimal air opposition or the campaigns in Poland and France when the Germans had air superiority, the Ju 87 was considered to be reliable and accurate. Because it was designed for dive-bombing, it was slow, had limited firepower and poor maneuverability. Thus, it faired poorly against more modern fighter aircraft. This became very clear during the Battle of Britain where the Stuka squadrons suffered heavy losses.
After the Battle of Britain, the Stuka was withdrawn to more suitable engagements like the North African Campaign, the Balkan Campaign and against tank groups along the Soviet front. It was also used to disrupt shipping in the English Channel where it went on to sink more ships than any other aircraft. Towards the end of the war, the Luftwaffe created night harassment (Nachtschlachtgruppen) groups to be used against Soviet ground forces.
This Monogram scale model has a paint scheme of the Luftwaffe night harassment group (Nachtschlachtgruppen). An authentic-looking, scratch built exhaust flame eliminator (Flammenvernichter) has been added. The model was completed with a mix of AeroMaster and Superscale decals.
Photo Gallery