Aircraft
Boeing B-17D Flying Fortress "The Swoose"
Pilot & Markings
United States Army Air Forces (USAAF), Circa 1942
Model Builder: Terry Moore
Scale & Kit
1/48 Monogram Revell Combo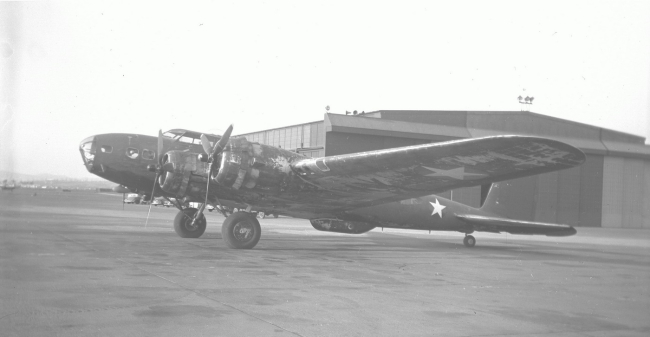 History
Along with the Memphis Belle (41-24485), The Swoose (40-3097) is one of the most famous B-17s. Incidentally, as of 2015, both Memphis Belle and The Swoose are undergoing restoration at the National Museum of the United States Air Force located at Wright-Patterson Air Force Base, near Dayton, Ohio.
The Swoose is the oldest surviving B-17. Not only did it fly in combat during World War II, but it fought during the first days just after the Japanese attack on Pearl Harbor. The Swoose was named after a popular song in the 1940s ("Alexander the Swoose, Half Swan-Half Goose") because it was a hybrid with a tail section from another aircraft. In early 1942 The Swoose received depot repairs. The tail of another B-17 (40-3091) was grafted onto The Swoose. At this time, the now famous depiction of the fanciful bird was painted on the starboard side of the fuselage. For a detailed history of The Swoose, you can read "The Swoose – Odyssey of a B-17", by Herbert S. Brownstein.
This model is painted to represent how The Swoose appeared during a visit to Seattle, WA in 1942. To achieve authenticity, the model is a combination of the 1/48 Revell B-17F and the Monogram B-17G along with the Koster B-17C/D conversion and True Details wheels.
Photo Gallery