After consulting with several modelers about their opinions on using an airbrush vs a paint brush, as well as our own, we have complied enough data to provide you with a helpful and informative article. We will be taking a look at the pros and cons of using an airbrush to paint your models. We are also going to be providing you with several product reviews for some of our favorite airbrush units.
Why Should I Use an Airbrush?
Regardless of if you're beginner, a seasoned modeler, or someone that mainly paints table top figurines, everyone can benefit from using an airbrush at some stage during the painting process. They can make short work of applying the primer and undercoats for all parts of the model, not to mention being able to quickly and seamlessly apply the final coat to most pieces.
A paint brush on the other hand, is ideal for all the fine detailing and delicate line work on the smaller and more intricate parts. On the larger continuous parts such as the fuselage and the wings however, they can leave brush strokes and hard edges where two different paint colors meet, or when additional patterns such as camouflage, are painted over the models based color.
In truth, it's almost impossible, for most people to be able to match the finish of an airbrush, using a paint brush.
Quick Benefits Guide to Using an Airbrush:
Consistency: The paint spreads very smoothly and easily, preventing any hard edgings.
Appearance: The final coat is much smoother, and practically flawless. Applied correctly, the final coat will be streak free.
Speed: Even if it's only being used to apply the primer or undercoats. An airbrush takes much less time to coat every part of a model, then what a paint brush would take.
Buying Your First Airbrush?
When buying your first airbrush, you may need to consider a few of the airbrush basics, designs and your own modelling needs.
Do you Want Gravity or Siphon Feed?
Simply put, this is referring to how the paint is introduced to the air-stream and not about how the paint-air ratio is regulated. In other words does the paint fall into the airflow as it passes by, or is it sucked up from below. While it may sound like a trivial difference to some, it can have a huge impact on not only how you may use the airbrush, or how much surface area can be covered before running out of paint, but it also determines what sort of air-compressor you may need to run as well.
Gravity Feed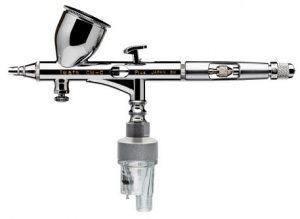 A reservoir is positioned on the top of the airbrush. These can be found in varying sizes, so it would be best to find one that you are comfortable holding. There is no point taking the one with the largest sized reservoir, if its too heavy for you to use comfortably.
The Biggest Disadvantage – on average, a gravity feed reservoir holds less paint then a siphon reservoir.
The Biggest Advantage – less air pressure is needed to draw out the paint. This means that a cheaper or less powerful air-compressor can be used with these sort of airbrushes. Some units are even designed to use cans of propellant, making them even more versatile.
Siphon Feed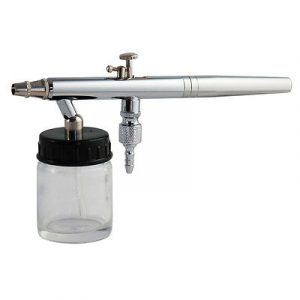 The reservoir is attached to either the underside, or to the side of the airbrush near the nozzle. The size of the reservoirs can vary greatly, from small and comfortable sized jars, to bulky and more cumbersome jars.
The Biggest Disadvantage – a lot more air pressure is needed to draw the paint out of a siphon reservoir, then that of a gravity feed airbrush.
The Biggest Advantage – With more options available for the size and function of the reservoir, more paint can be used in a single sitting, in comparison to the gravity feed reservoirs.
Do you Want Single or Double Action Trigger?
Controlling how and when the paint is added to the air flow may also be something that you need to take into consideration for yourself.
Single Triggers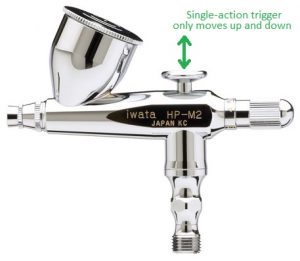 A one button, one push solution. The single trigger units will release paint into the air-stream, the moment that the button is pushed. Aside from disconnecting the paint reservoir from the unit, there are no other means in which to make the airbrush blow out just air.
The Biggest Disadvantage – a quick clear out burst is needed between uses. This is to ensure that if there is a buildup of paint left in the nozzle, it will not cause the next coat to become uneven. This does mean that paint is wasted.
The Biggest Advantage – if you have problems with your hands/fingers, the single motion trigger is easy to manipulate.
Double Triggers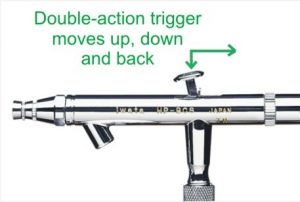 The air flow and paint feed are operated separately using just the one button. Pushing the button down, releases the air-stream without any paint flow. To release the paint, the button is then pulled back, allowing for the paint to be freely expelled from the airbrush until the button is allowed to return to a upright position.
The Biggest Disadvantage – people with dexterity issues in their hands (such as arthritis) may find it difficult to control the paint flow.
The Biggest Advantage – double triggers allows the airbrush to be used to blow dust off of models, clear the nozzle before use, and gives greater control over when there is a flow of paint.
What Type of Paints you Will be Using?
Before buying an airbrush, you need to make sure that it can handle your favored style of paint. Some airbrushes can handle most types of paints, other may need the paints to be "watered down" using a solvent or some other form of thinner. Then there are airbrushes that could also be damaged by the cleaning solvents that would be needed to clean out the paints after use.
Always make sure that what you are buying, can handle what you are trying to use, even if it is:
Enamel Paints
Acrylics
Metallic Finishes
What is your Intended Use?
If your intentions are to use an airbrush exclusively for applying primers, and gloss coats, you don't want to be using an expensive unit. The quality of the flow, and the area of the spray for these sorts of coats do not need to be as fine and precise, as that which is need for the paint coats. Most air brush units will work fine for the base coats, so a cheaper unit can perform just as effectively as one that costs twice as much.
If your intentions are to provide a high quality finished product. Then you need to make sure that you are buying the best possible unit that you can afford. This doesn't only refer the airbrush however. A complete unit will include the air-compressor, work space, and somewhere for the painted models to cure properly, away from dust, sunlight, moisture, and unstable heat sources.
By having your work spaced organized before you look at buying an airbrush, you may be able to see what sort of air-compressor you might be able to fit in, which can help you to determine the type of airbrush to use.
Examples of Airbrushes being More Suitable for Different Purposes:
Detailed Work – Fine Detail, and Camouflage
Iwata Eclipse HP-CS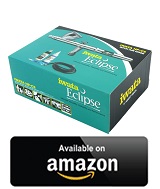 A multi-purpose, high-paint flow, high-detail airbrush that covers a wide range of uses.
This gravity-feed airbrush has a 1/3 ounce sized efficient paint flow cup.
Features a unique 0.35mm needle and nozzle combination for fine-detail spraying.
The cup is designed with a funnel shape which makes for easy clean up
A great tool for applying heavier paints and provides precision spraying.
Tamiya 74545 HG Super Fine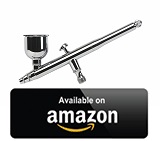 Features a 0.2mm fine nozzle
Gravity feed 7cc cup
compatible with separately sold plastic paint cups with larger 17cc and 40cc capacities.
New needle stop shape offers smoother operation.
Highly durable, precision-made metal body.
Harder & Steenbeck Infinity CR Plus 2 in 1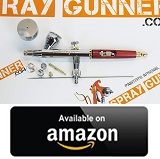 Perfect for fine tuning and detailed work
Self-centering socket-type nozzles 0.15mm + 0.4mm
Gravity feed 2ml
Precision quick- fix end piece with numbered dial
Innovative, adjustable trigger mechanism
General Purpose – Body Work, and Primary Coats
Iwata-Medea Eclipse HP-BCS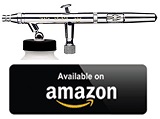 Suitable for a wide range of uses.
Duel Action Trigger
Siphon Feed
Commonly used to spray premixed or heavier paints.
Well suited for uses demanding precise spray control.
Ideal for applying moderate-to-large amounts of paint to a variety of surfaces.
Solvent Resistant O-Ring
Badger Air-Brush Co. 105 Patriot Fine Gravity Airbrush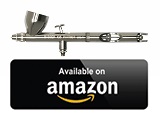 Dual action, internal mix.
Gravity feed airbrush with a permanently mounted 1/3 ounce color cup .
Its innovative precision design delivers superior performance.
A two angle needle tip with a cone shaped nozzle eliminates the need for various needles and nozzle sizes.
The body design provides a balance for long term user comfort.
Suitable for detailed applications, or for only a small projects.
Primers and Gloss Coats – Basecoat, Undercoat, and Clearcoat
Harder & Steenbeck Ultra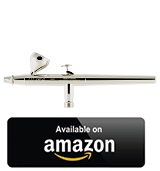 The ideal airbrush for beginners.

0.2 mm Nozzle.

Gravity Feed 2 ml Cup.

Self-centering Socket-type Nozzle.
Maintaining Units with Interchangeable and Spare Parts
One other thing to consider before buying an airbrush, is the brands reliability, and universally available parts. Try to avoid using a unit that uses exclusive parts that are only used by that model. Some companies have made it so that their nozzles and needles are virtually identical across their range. Meaning that if your bought a model that is later discontinued, you should still be able to find the required replacement parts with relative ease. Unfortunately other companies try to shoehorn their customers into using their more "superior" range that uses exclusive parts, only for the line to be discontinued or the company goes out of production at a later date.
If you are unable to find the appropriate replacement parts to fix your unit, and it uses universal parts. More then likely you will simply be able to purchase new cheaper units, and salvage the required parts from these units to fix your better one, instead of having to replace the whole unit.