Aircraft
North American P-51D Mustang Red Tails "Little Freddie"
Pilot & Markings
Lieutenant Fred Hutchins — 332nd FG, 302nd FS, Ramitelli, Italy, 1944
Scale & Kit
1/48 Scale Hasegawa Model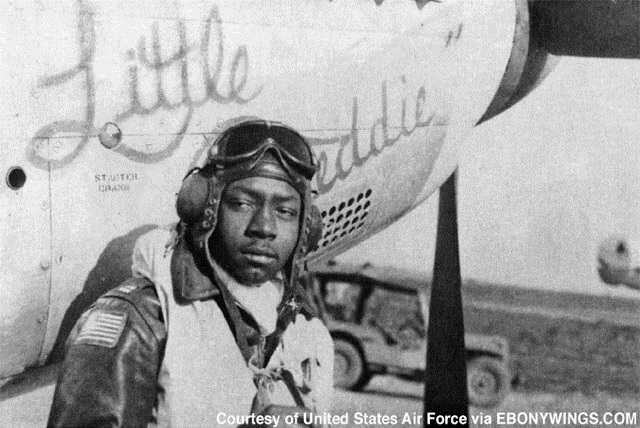 History
Claiming to have never lost a bomber under their care, members of the 332nd Fighter Group: the 99th, 100th, 301st and 302nd Fighter Squadrons, were the only African American pilots flying escort missions for the United States Army Air Corps. Despite heavy political opposition, these pilots flew with distinction as they racked up an impressive combat record. Accordingly, a March 24, 1945 issue of the Chicago Defender stated: "332nd Flies Its 200th Mission Without Loss".
"Tuskegee Airmen" of the 332nd were initially equipped with P-40 Warhawks, briefly with P-39 Airacobras, later with P-47 Thunderbolts, and finally with the airplane they would most identify with, the legendary P-51 Mustang (featured in this model airplane). They claimed to be the only outfit to fly four various aircraft in their area of operations and the only group to sink a destroyer with fighters in Europe. The distinctive crimson paint on the vertical stabilizers (a group identification tail marking) earned them the nickname: "Red Tails". Although bomber groups would request Red Tails escort when possible, few crewmembers knew that these pilots were African American. By the end of the war, the Tuskegee Airmen were credited with a very impressive 108.5 aerial victories, including three Luftwaffe Me 262 jets. The success of the Red Tails earned them several Silver Stars, 150 Distinguished Flying Crosses, 14 Bronze Stars and a total of 744 Air Medals.
Little is known of Lieutenant Fred Hutchins, who piloted the P-51 represented in this model airplane. Records show that he had at least one victory against a German Bf 109 on July 26, 1944 and was a member of 302nd fighter squadron.
Hasegawa's excellent 1/48 model airplane was used to produce Lieutenant Fred Hutchins P-51D Mustang "Little Freddie". The crimson Red Tails paint scheme was applied to the vertical stabilizer, gear doors, wing tips and spinner. In keeping with the original colours of the aircraft, a Natural Metal Silver with Olive Drab anti-glare was applied to the panels and Chrome Yellow was used for theatre wing stripes and trim tabs. Enjoy the photos.
Photo Gallery