Aircraft
Heinkel He 115
Pilot & Markings
Hans Broy – Küstenfliegergruppe 406, Kirkenes, Norway 1943
Model Builder: Terry Moore
Scale & Kit
1/48 Special Hobby Model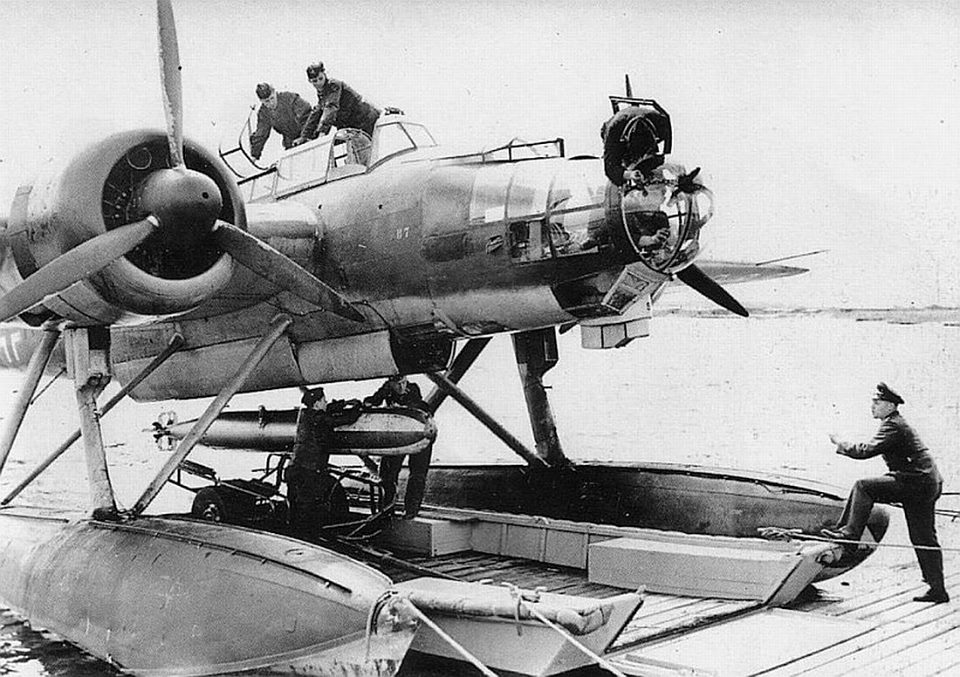 History
The inspiration for this model was aircraft K6+MH of Staffel 1./ Küstenfliegergruppe 406, (first squadron, 406th Coastal Air Group) of the German Luftwaffe. Piloted by Oberfeldwebel Hans Broy with the assistance of crew members Leutnant zur See Arno Kratz and Unteroffizier Kurt Kleißmann, the Heinkel He 115 attacked Murmansk-bound convoy JW 52 on January 24, 1943. As three Heinkels from the squadron attempted to launch aerial torpedoes on merchant ships in the convoy, two were shot down by merchant ship gunners. Both crews perished in the icy Bering Sea. The model was commissioned to illustrate a museum exhibition that will highlight this World War II action and celebrate the publication in 2017 of Liberties at War, An Engineer's Memoir of the Merchant Marine 1942-1945 by Herman E. Melton, a cadet midshipman who witnessed the action.
Lieutenant Richard Stone, USN, aboard the Liberty ship S.S. Cornelius Harnett, commanded the gun crew that downed one of the Heinkels, for which he received the Silver Star. German U-Boats also stalked Convoy JW 52, but thanks to the screen of a British navy escort, the ships successfully delivered their Lend-Lease cargoes to the Soviet Union.
Built from Special Hobby 1/48 Heinkel He 115 floatplane kit # 48110, the model's underside is painted sky blue while the upper surfaces are a mix of green tones in a splinter camouflage pattern. Additional whitewash camouflage has been applied reflecting the authentic appearance used by the German squadron for winter flying. The aircraft is weathered to illustrate its service in the Arctic winter, some of the harshest weather conditions seen by the war's pilots.
In addition to torpedo bombing, the Heinkel He 115 was also deployed for mine-laying, air reconnaissance and for carrying agents on espionage missions. When first developed in 1937, the Heinkel He 115 broke all existing speed records for seaplanes, but by 1943 it was too lightly armed to attack ships that carried the latest naval anti-aircraft weapons. At the time of their deaths, Oberfeldwebel Broy's crew flew from a seaplane base in Kirkenes, Norway, the northernmost airfield in Europe. The plane likely operated with ice skids mounted on the bottom of the large floats, for the harbor at Kirkenes iced over in winter.
Written by Will Melton.
Photo Gallery