Aircraft
Curtiss P-40B Tomahawk "Flying Tigers"
Pilot & Markings
Greg Boyington – AVG, 1st Pursuit Squadron "Adam & Eve", China 1941
Model Builder: Patrick Najmulski
Scale & Kit
1/48 Trumpeter Scale Model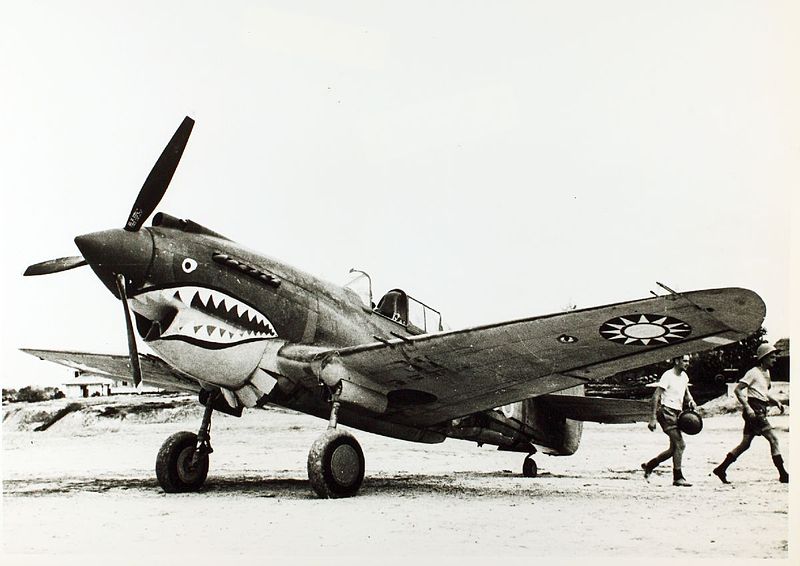 History
The Curtiss P-40 was one of the first American all-metal single seat fighter planes. In the early years of World War 2, the allies depended heavily on the P-40 to gain control of the skies. More than thirteen thousand P-40s flew into action in nearly every theatre of WW2. In December 1941, about 100 P-40s began resistance in China against Japan. There, the deadly P-40B blew away its light weight Japanese enemies, kept their pilots safe and ensured that the Allied air forces would live to fight another day. The P-40 fighter was the last of the famous "hawk" line of aircraft manufactured by Curtiss in the 1930's and 40's. It was the first American fighter with a speed greater than 300 mph. The P-40 eventually became one of the most heavily armored fighters in the sky with six wing-mounted 50-caliber machine guns. In addition to being the front line fighter for the U.S., 27 other nations flew the P-40 during WW II.
Before being shot down and taken prisoner in 1944, Greg Boyington shot down 26 enemy planes tying WW I ace Eddie Rickenbacker's record. In 1937 Greg Boyington became a second lieutenant in the US Marine Corps after completing flight training in Pensacola, Florida. Early in his flying career, Boyington was noticed as an outstanding fighter pilot. However, he got himself into problems which included such things as assaulting a superior officer and getting into financial debt. By 1941, his career had become a mess. Hoping to escape his problems and get his life back on track, Boyington resigned his Marine Corps commission in August of 1941 and accepted a position with the AVG (American Volunteer Group) which would later be known as the famous Flying Tigers. During his time with the Flying Tigers, Boyington was credited and paid for two aerial kills as depicted on this model.
To achieve maximum authenticity, this Trumpeter model was upgraded with an Aires cockpit upgrade kit to rectify the rather shallow Trumpeter cockpit design. The scale model also has an AML upgrade kit for wheels and paint mask, Quickboost resin exhaust upgrade kit and an AML undercarriage set which includes authentic-looking landing gear doors. The model was completed with an EagleCals "AVG Tomahawks 1st Squadron" decal set.
Photo Gallery